I've always heard about how wonderful Christmas in Florida is. I never thought it could be true, with not having cold weather or snow and all, but I'm pretty much liking it, a lot! The one thing that always seemed hard for me was the thought of having real pine garlands and wreaths everywhere when it's 75 degrees out. Since that is one of my favorite parts of Christmas in the Northeast and even in Atlanta, I struggled with what to do this year that would seem to fit for the Florida climate.
For years I have always wanted a pom pom tinsel tree and have never allowed myself to spend the money on one. I thought our first year in our house in Florida would be the perfect time to splurge and get a tree that i've always wanted!
In the midst of finding the right one online, which isn't easy (they're either really expensive or in really bad shape), I stumbled upon some other artificial trees which piqued my interest and led me on a whole different hunt. Vintage white trees and antique feather trees. This became the idea behind decorating this year. The best part is that I make and collect bleached bottlebrush trees, so now I felt like it was all coming together.
This year was not about traditional Christmas colors, but rather soft hues of gold, pink, white, cream and gray. Sticking with a neutral, soft palette color then layering on vintage sheet music, natural dried gourds, vintage skates from my childhood and our left over copper and gold leaf gourds from Thanksgiving gave our home a very Scandinavian Christmas feel.
And, the centerpiece of it all is that pom pom tinsel tree filled full of ornaments!
Vintage Charlie Brown Christmas Tree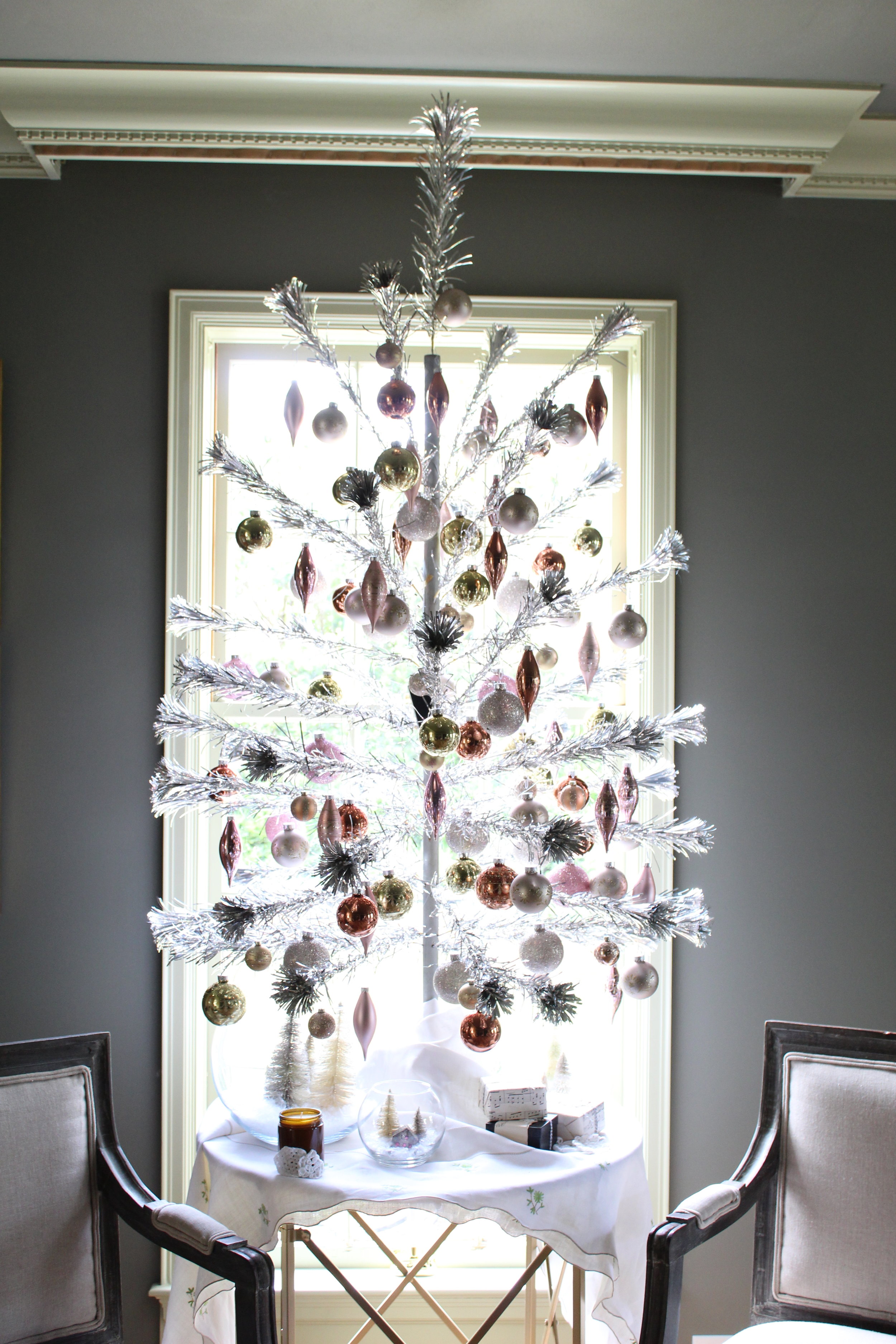 Pom Pom Tinsel Christmas Tree
Bleached bottle-brush tree snow globes
Antique holiday sheet music